Daily Lectionary Readings
Parish News
2012 | 2013 | 2014 | 2015 | 2016 | 2017 | 2018 | 2019 | 2020 | 2021 | 2022
24 December 2019
Announcement | Saturday, Memory of the Twenty-thousand Saints burned in Nikomedia
To all in the Maui mission parish go wishes of glad tidings of great joy to you and your families on the Eve of the Nativity of Christ. We always have much to be joyful for in our Lord and Savior Jesus Christ. Christ is born! Glorify Him!
Our parish has much to be thankful for, including the upcoming service this Saturday, Memory of the Twenty-thousand Saints burned in Nikomedia, as well as a very special visit and parish dinner next month.
Matins and Divine Liturgy Services are scheduled with Father Alexander for this Saturday, December 28, 2019, starting at 9:30am in the Saint Cecelia Room at Saint Theresa Church in Kihei.
For the fellowship hour, we are planning an upcoming New Year's Luncheon. Please feel free to bring a potluck dish to share with everyone. If you would like to coordinate, you can reach Andrea by phone at (617) 838-7904.
Following the fellowship hour, we are planning a Parish Meeting. Topics to discuss include:
establishing a steering committee for the Maui Orthodox Christian Mission Parish
ways to continue our growth in the mission parish in 2020
any other topics of interest to you.
Next, in January 2020, there is a great blessing for our parish community as we have the honor of hosting a visit of His Eminence Archbishop Elpidophoros and His Eminence Metropolitan Gerasimos to Maui. During the evening of January 22, 2020 (Wednesday), we will host a dinner for all the parish members to share and visit with Archbishop Elpidophoros and Metropolitan Gerasimos.
The venue for the Parish Dinner is located in Makena, next to the ocean, in South Maui. We are considering a couple of wonderful locations, and the address of the selected venue will be sent out to the mission parish in a subsequent announcement. I hope everyone can attend!
Finally, I hope you take the upcoming New Year as a time to consider the Lord's calling of you to serve His Kingdom on the Island of Maui through our mission parish. There are many of you that do so much for our parish. Let us continue to embrace the greatest wisdom of the ages!
September 2019
During the Fall in September 2019, Ecumenical Patriarch Bartholomew presented a message on climate change to the UN Secretary General, His Excellency António Manuel de Oliveira Guterres. The most impactful part was when His All Holiness said: "Through our annual encyclicals, we implore the global community to work together to save the planet. We are convinced that governments, universities, civil society, people of faith and all people of good will must unite behind science in a determined and harmonious effort to save God's creation from human-induced climate change, which is now threatening the natural world and human livelihoods on an unprecedented scale." This is a worthy call. Moreover, this critical mission of uniting behind science to save God's creation would be the rallying call for the new school on Maui.
July 14, 2019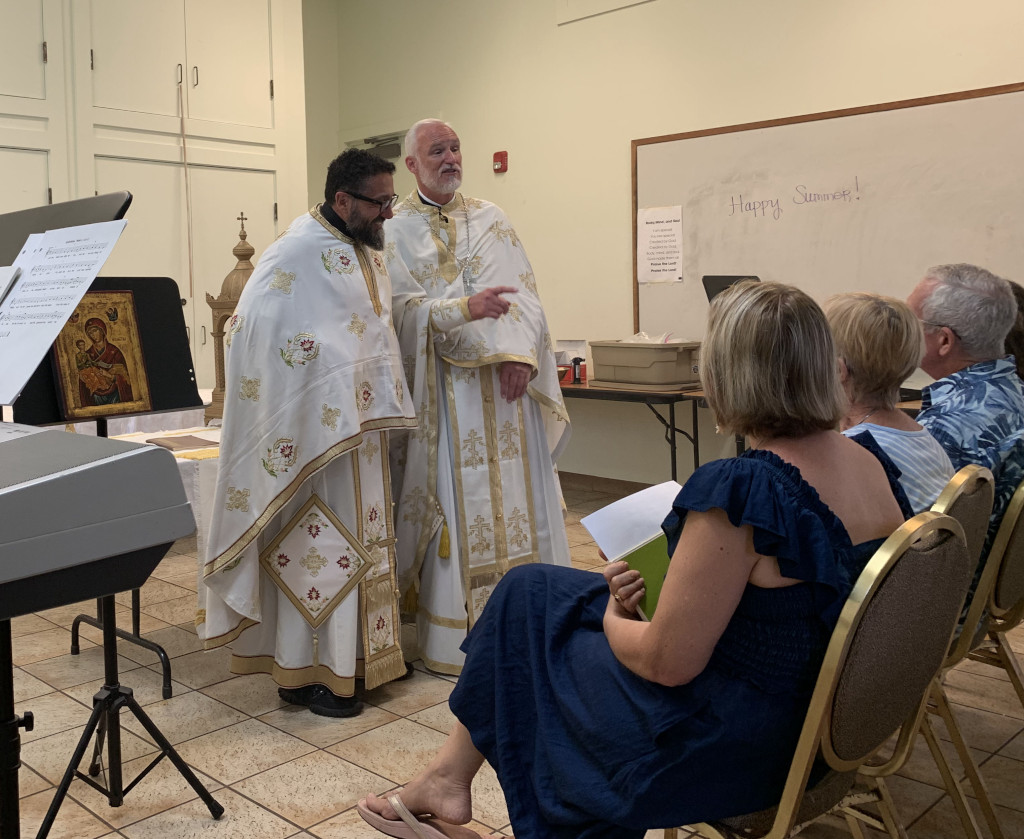 The Maui Mission parish had a wonderful time celebrating the Service of Matins and the Divine Litury with Rev. Fr. Gary Kyriacou and Rev. Fr. Photios Dumont on July 14, 2019, Sunday of the Holy Fathers. It was indeed a great blessing for us to have two Fathers celebrate with our mission parish. Fr. Gary is from St. Demetrios Church in Camarillo, California, and Fr. Photios is from Saint Demetrios Church in Seattle, Washington.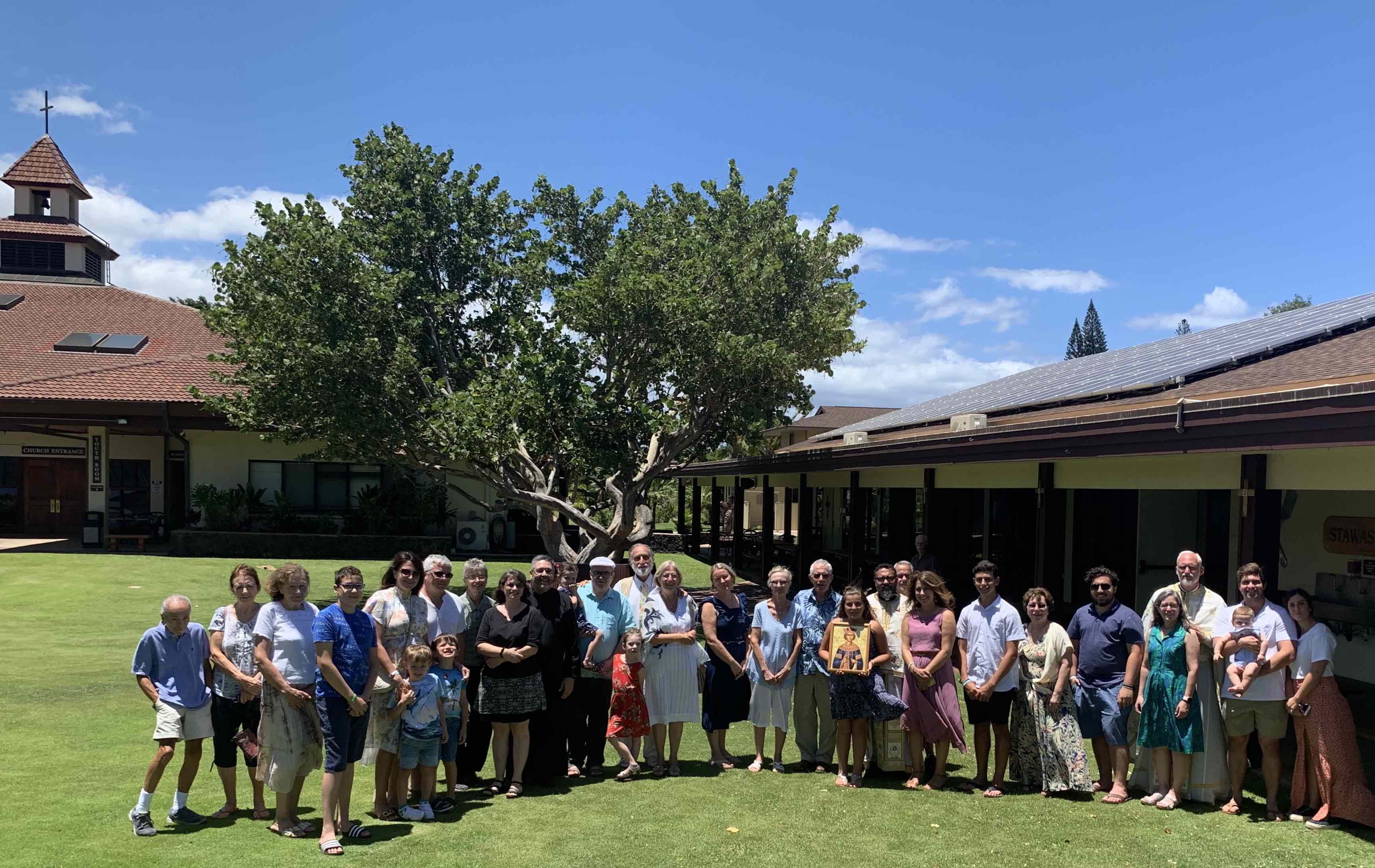 June 22, 2019
The Maui Mission parish had the honor of hosting a visit of the Very Reverent Father John Constantine, Archimandrite to the Ecumenical Patriarch, St. George Church, Downey, California. We celebrated the Service of Matins and Divine Liturgy, on Saturday, June 22, 2019, Leave-taking of Pentecost.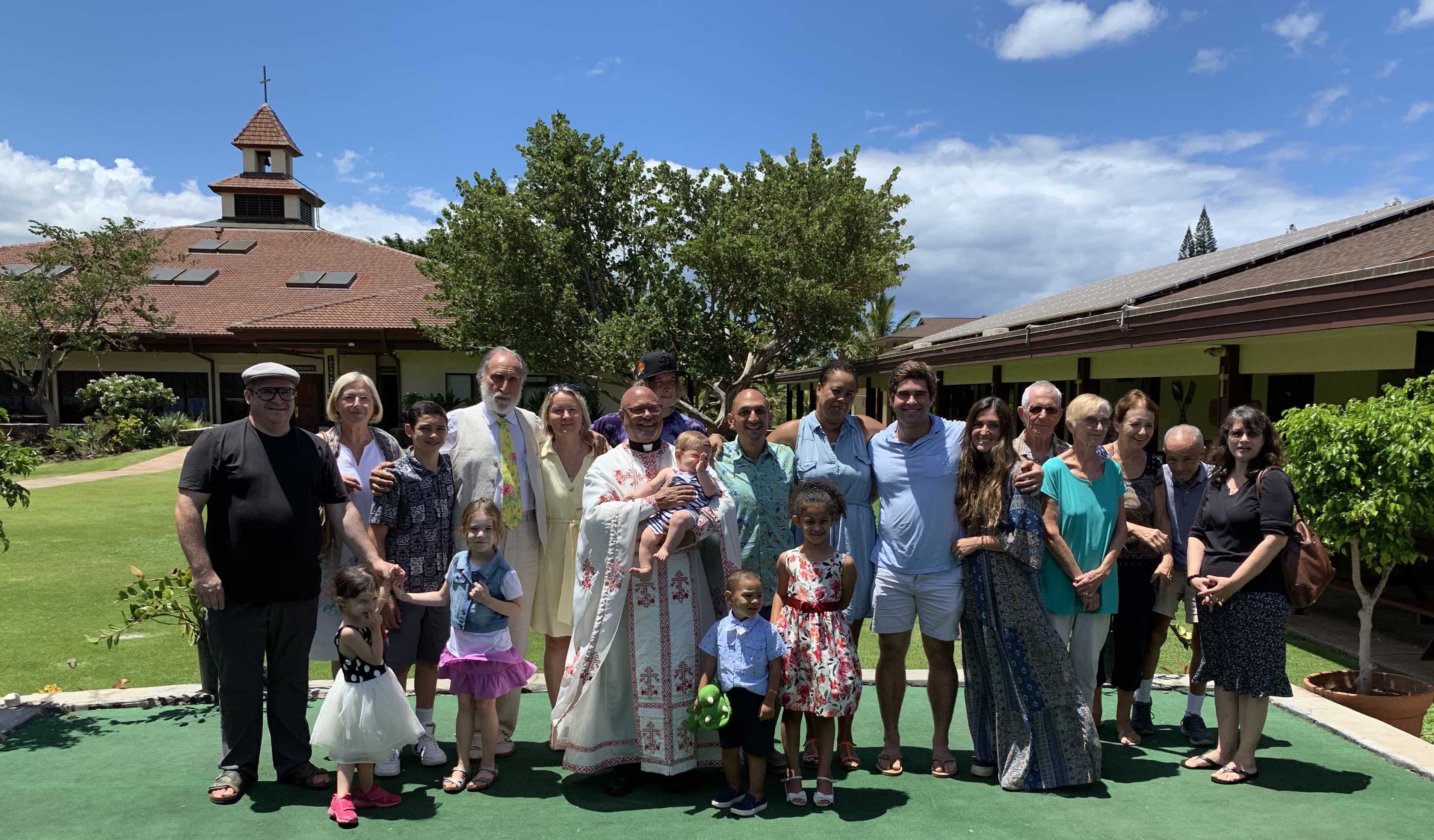 This is an historical listing of some of the announcements and news reported by the Maui Greek Orthodox Christian Mission for the year selected.