Daily Lectionary Readings
Parish News
2012 | 2013 | 2014 | 2015 | 2016 | 2017 | 2018 | 2019 | 2020 | 2021 | 2022 | 2023
23 November 2012
The Maui Orthodox Christian Mission had the honor of hosting Rev. Fr. Theodore and Pres. Stacey and C.O.M.E. Secretary Eva for Divine Liturgy Services on November 10th and 11th. We hope to see them next year.
The Maui Mission serves Orthodox Christians from all jurisdictions with the Divine Liturgy entirely in English. Remarkably, virtually every parishioner, whether a Maui resident or visitor, has expressed thanks for the opportunity for an entirely understandable service. The potential for enhancing our worship through Byzantine chant can expand this opportunity.
Pres. Stacey and Fr. John introduced us to musical resources to help us move forward. Byzantine chant emphasizes the text, both clarifying the meaning and raising the corporate response beyond a setting emphasizing absolute notes. Chanting in English would represent the Liturgical English texts first and foremost.
The Orthodox Christian faith embodies deep theological insights just as Byzantine chant embodies subtle musical representations. Remarkably distinctive of eight tone Byzantine musical theory are tones (e.g. soft chromatic scale) not representable in Western musical theory. There are intervals of one and one third, one and two thirds, and two and one third of a half step between sung notes. In whole step units, the diatonic scale uses 1/2 and 1 while Byzantine music uses 1/3, 2/3, and 1. Symmetry groups based on two or three elements are fundamental -- our most basic understanding of the world is founded on these.
Just as sacramental mysteries are characteristic of one's Orthodox faith, subtle musical expressions in the Divine Liturgy characterize Orthodox worship. Today we find Orthodox churches in America undergoing a transition to an elegant expression of the Divine Liturgy Service in English. We hope over the fullness of time to discover this elegant expression for our services. This is a labor but one of love.
4 November 2012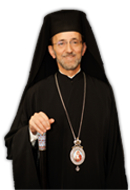 The Maui Orthodox Christian Mission has the honor of hosting a visit by His Eminence Metropolitan Gerasimos, the Metropolitan of San Francisco, in early January 2013. Metropolitan Gerasimos will celebrate the Divine Liturgy on Saturday, January 5th. Following the Liturgy, His Eminence will celebrate the feast of the Epiphany with the Great Blessing of Water. We hope all parishioners can attend.
28 October 2012
The Maui Orthodox Christian Mission has the honor of hosting a visit by Reverend Father Theodore Dorrance, the President of the Commission on Orthodox Missions and Evangelism (COME), in early November 2012. Father Theodore will celebrate the Divine Liturgy on Saturday, November 10th. The following day, on Sunday, November 11th, we will host a parish meeting facilitated by Father Theodore to talk about future directions for the Maui Mission. We hope all parishioners can attend.
10 September 2012
The Maui Orthodox Christian Mission has reached a wonderful milestone: we now have had regular services for half a year! We have a lovely small community and are getting to know each other much better. We have been meeting after the services during our Fellowship Hour, and Fr. John Kuehnle, Presbyter at Sts Constantine & Helen Greek Orthodox Cathedral, has been facilitating a helpful on-going discussion about Orthodox Faith.
23 June 2012
Father James Adams served the Maui Mission for a little over a year in 2000. Today, some twelve years later upon hearing about the reanimation of the Maui misssion parish, Fr. James began the proceses of getting a baptismal font donated to the mission. He expressed that he is truly happy that positive things are happening in Maui!
21 April 2012
Today, on Renewal Sunday, the Maui mission parish in its new form celebrated its first Divine Liturgy!
This is an historical listing of some of the announcements and news reported by the Maui Greek Orthodox Christian Mission for the year selected.